How to wash without a sink – You'll not find this in the Lonely Planet
I'll do this post in English, to have more people benefit from this. Not that I think this is a unique solution, but I'm so pleased with coming up with this that I'd like to share!
I'm staying at YHA Sidney Central and, as this is my last stay, I'm starting to run out of clean socks and underwear. Now I could wash them, but it's so little that it wouldn't even fill the machine for a third, and they charge UA$ 3,- for this, which I find absurd. But, as the sink in my room doesn't have a stopper and I couldn't find anything to keep the water in I came up with the following solution: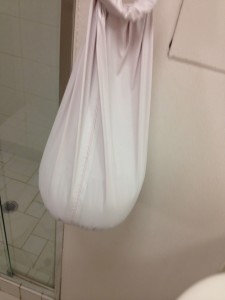 I got my waterproof bag, which I use for my valuables when I go for a boat ride, turn it inside out (so the inside won't get wet) and put my socks and underwear in it, add some washing powder, fill it up with hot water, shake it around and let it hang for a while! Easy and effective!
Probably not unique solution, but hey, I've got some clean clothes again! 🙂
No worries!